Childhood is the best time to present a relevant and engaging Gospel message. Our desire is that no child would slip past the age of 14 without a valid opportunity to encounter Jesus.
The Age of Deepest Faith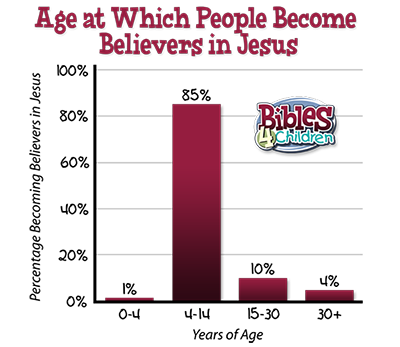 Over one-fourth of the world's population is under the age of 15. Unfortunately, when thinking about missions and spreading the Gospel, children are often overlooked or not taken seriously. Yet, those who exhibit the greatest faith, more than at any other time in their lives, are children.
Children between the ages of 4 and 14 are the most receptive to the Gospel than any other age group. Some have called this the "4/14 Window." Over 85% of those who receive Jesus as their Savior, do so during this 10-year span. These are also the years when every person develops his or her lifelong impressions of God.

Strategic Engagement
In the places where Bibles-4-Children is engaged, the illiteracy rate can be as high as 75%. However, those who do have the ability to read are often the children. It is not unusual to see children reading the Bible and Bible storybooks to their parents, family members and friends.
We estimate that for every Bible or Scripture portion that is distributed, at least 20 others will read it or be influenced by it. And because of the dynamic nature of the Word of God, as well as the receptivity of the children who are reading it, we estimate that a minimum of five people will come to faith in Jesus Christ.*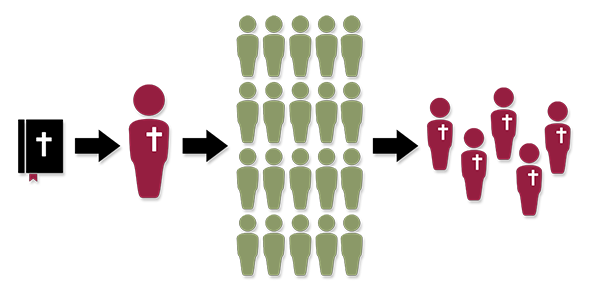 * These are conservative estimates. Our experience shows a much higher impact and response to the Word of God.

The Heart of Jesus
Jesus was passionate in his response to children as well as in his warnings about offending them:
But Jesus said, "Let the little children come to me and do not try to stop them, for the kingdom of heaven belongs to such as these." ~ Matthew 19:14
"And whoever welcomes a child like this in my name welcomes me. But if anyone causes one of these little ones who believe in me to sin, it would be better for him to have a huge millstone hung around his neck and to be drowned in the open sea." ~Matthew 18:5-6
Jesus even highlighted the fact that everyone, whether young or old, must come to Him in child-like faith.
"I tell you the truth, whoever does not receive the kingdom of God like a child will never enter it." ~ Mark 10:15